Guide highlights leading Cloud Partner Programs
[Press Release] San Jose, Calif., October 18, 2016 – Kerio Technologies, the leading innovator in unified communications, collaboration and network security solutions, announced that CRN, a brand of The Channel Company, has recognized Kerio Technologies in its 2016 Cloud Computing Partner Program Guide, a list of leading technology vendors with cloud-related partner programs that enable and accelerate the growth of solution providers' cloud initiatives.
The CRN 2016 Cloud Computing Partner Program Guide serves as a valuable resource for solution providers navigating the booming cloud marketplace, helping them to identify technology suppliers that offer innovative cloud solutions and partner programs. To qualify for participation in the Cloud Partner Program Guide, technology vendors must have a unique set of partner program benefits for solution providers that deliver cloud infrastructure or applications.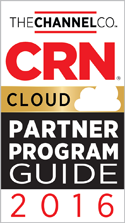 "For channel partners, active support for their cloud-based solutions is more critical than ever," said Robert Faletra, CEO of The Channel Company. "CRN's 2016 Cloud Computing Partner Program Guide recognizes vendors that provide excellent resources, training and financial incentives for cloud, doing their best to help partners make the most of this now foundational practice area. We congratulate all the innovative, forward-looking companies on the 2016 list and invite the solution provider community to take full advantage of this terrific resource for finding the right cloud vendors to partner with."
The Kerio Partner Program is designed to support cloud service providers and IT resellers that serve small and mid-sized businesses worldwide. Kerio offers a range of competitive communication, collaboration and security solutions, pricing and a combination of marketing, training and technical support to help partners reach more customers and easily scale up or down according to demand.
"As a channel-first company, we pride ourselves on delivering award-winning solutions and comprehensive support, so that our partners can build a successful business of their own," said Mirek Kren, CEO of Kerio Technologies. "To be recognized in the CRN 2016 Cloud Partner Program Guide is a great endorsement of our continued commitment to the channel."
The Cloud Partner Program Guide will be featured in the October issue of CRN and can be viewed online at www.crn.com/cloud-ppg.
About the Channel Company
The Channel Company enables breakthrough IT channel performance with our dominant media, engaging events, expert consulting and education, and innovative marketing services and platforms. As the channel catalyst, we connect and empower technology suppliers, solution providers and end users. Backed by more than 30 years of unequaled channel experience, we draw from our deep knowledge to envision innovative new solutions for ever-evolving challenges in the technology marketplace.
About the Author
As Senior Marketing Manager, Yvette Graff, is responsible for branding, marketing communications, campaign messaging and content, including ebooks, case studies and press releases. Yvette is Prince2 qualified with an MSc in Business Management and BSc in Information Systems Management.