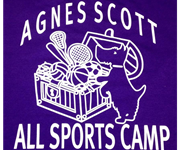 This is your child's chance to receive a well-rounded summer experience. He/she will receive excellent instruction from college athletes in the sports of basketball, soccer, lacrosse, volleyball, baseball, and tennis.
Who:
Girls and Boys ages four years through 9th grade (up to 14 years)
Where
Agnes Scott College
Woodruff Physical Activities Building
225 E. Dougherty St., Decatur, GA
Time
8:30 a.m.–4:30p.m. Full Day
8:30 a.m. -12:30 p.m. Morning Session (Half Day Campers are to bring lunch)
What to bring:
Water bottle, baseball glove, tennis racquet, lunch, snacks, swim suit , towel , goggles. Camp Canteen will be available (Half-day campers do not have swim time.)
Full-day cost:
$190 per child per week |
Half-day Cost:
$140 Morning Session
$10 discount for each additional child per family
Session 1: May28-May 31 ($170)
Session 2: June 3-7
Session 3: June 10-14
Session 4: June 17-21
Session 5: June 24– 28
Session 6: July 1-3 ($150)
Session 7: July 8-12
Session 8: July 15-19
Session 9: July 22– 26
Session 10: July 29 –Aug 2nd
Learn more and register here.
Questions contact:
Jamenda Whitehead at
jwhithead@agnesscott.edu
or 404-471-6497.